Centrifugal Spray Drying Machine
Applications of High Quality Spray Dryer
LPG centrifugal spray dryer machine is ideally suited for drying of polymers, resins, dyes, pigments, ceramics, glass, rust removers, pesticides, carbohydrates, dairy products, detergents, fertilizers, organic compound and inorganic compound liquids, and other materials. Specifically, this spray dryer is used in the following areas:
Chemical Industry
Potassium chloride, alkaline dyes and pigments, dyestuff intermediates, compound fertilizers, formaldehyde acid, catalysts, sulfuric acid agents, amino acid, etc.
Machine Pictures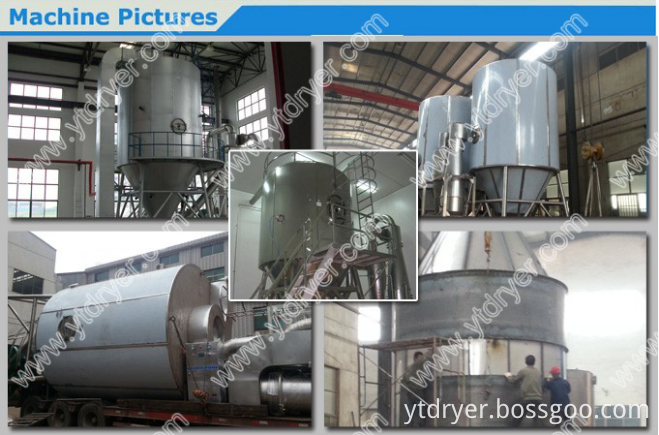 Plastic Resin
AB, ABS latex, urea-formaldehyde resin, phenolic resin, dpolyethylene, PVC, etc.
Food Industry
Cocoa powder, milk substitute, egg white or yolk, oats, chicken juice, coffee, instant tea, seasoning meat, protein, soybean, corn syrup, corn starch, glucose, pectin, maltose, potassium sorbate, etc.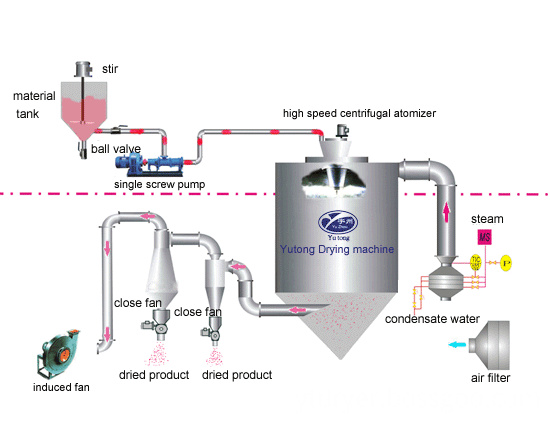 Features
Our centrifugal spray drying machine, which can instantly evaporate 95%-98% moisture of materials, is perfect for drying thermosensitive materials. Typically, the drying time is 5 to 15 seconds.
The dried products have the advantages of high purity, great fluidity and solubility.
This spray drying machine is simple to operate and eliminates the need for grinding and screening after drying.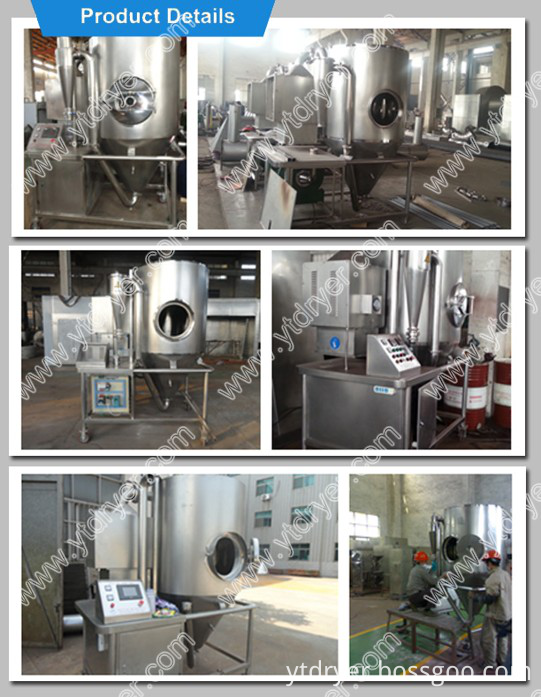 Technical Specifications of Centrifugal Spray Drying Machine
Item/Model

LPG

5

25

50

100

150

200-2000

Inlet temperature(℃)

≤350

Outlet temperature (℃)

80-90

Max. moisture evaporation (kg/h)*

5

25

50

100

150

200-2000
Drive type of centrifugal spray nozzle

Compressed air drive

Mechanical drive

Rotation speed

25000

22000

21500

18000

18000

15000

Diameter of spray disk(mm)

50

102

108

108

150

180-340

Heat source

Electricity

Electricity

Electricity
+ steam,
fuel oil, gas

Electricity + steam

Electricity
+ steam,
fuel oil, gas

Depending on the user

Max. electric heating power (kw)

8

31.5

60

81

99

Outline dimensions L×W×H

1.8×0.93×2.2

3×2.7×4.26

3.7×3.2×5.1

4.6×4.2×6

5.5×4.5×7

According to actual situation

Dry powder recovery (%)

≥95

≥95

≥95

≥95

≥95

≥95